Custom Engagement Rings | Ring Appraisals | Jewellery Repairs
Serving Calgary & Cochrane, Alberta - GIA Certified & Diamond Grader
About Us Refined Custom Jewellers
Fine jewellery pieces are an investment. They are also weighted with emotions, meaning, and messages. It is my mission to give everyone the opportunity to enjoy a custom jewellery design experience. The journey to create a completely customized, one-of-a-kind piece that tells a story, imparts a feeling, and lasts a lifetime is not reserved only for the elite. Anyone with any budget can benefit from the skill, knowledge, insight and experience of a custom jeweller.
This opportunity is yours with Refined Custom Jewellers.
A Custom Jeweller For All
You may think that only the famous and uber-wealthy have their own custom jewellers, but this is simply not true. Working with a custom jeweller is not about the price, it is about a trusted relationship and the confidence that every piece in your jewellery collection is made with top-quality materials, beautifully designed, and maintained meticulously over time. Having a custom jeweller for your most treasured pieces does not have to cost more than buying jewellery from a national chain retailer.
Let's Get Started!
Is it time to ask your love to spend their life with you? Do you want to design a completely unique custom jewellery piece to mark an anniversary or other special occasion? Do you have quality jewellery that feels outdated or no longer reflects who you are?
Do you have pieces that might be more valuable than you think? Book a FREE CONSULTATION at Refined Custom Jewellers and let's get started on a journey to create beautiful jewellery that will make a statement today and for years to come.
Our Refined Custom Jewellers Process
The journey to create your first custom-designed engagement ring or any other fine jewellery piece is quite simple. Here is what you can expect when you choose Refined Custom Jewellers to create a bespoke, one-of-a-kind piece to mark any special occasion or simply just because.

Initial Contact
When you are interested in beginning the journey to design and create your own unique jewellery piece, simply contact me and complete our standard intake form. This will provide some insight into what you need, want, and your goals for your custom design journey.

The Details
This step marks the beginning of our collaboration. I will dig deeper to understand your style, how you hope the piece will be worn and used, your budget, the message behind the design, and the special feeling you want your custom piece to evoke.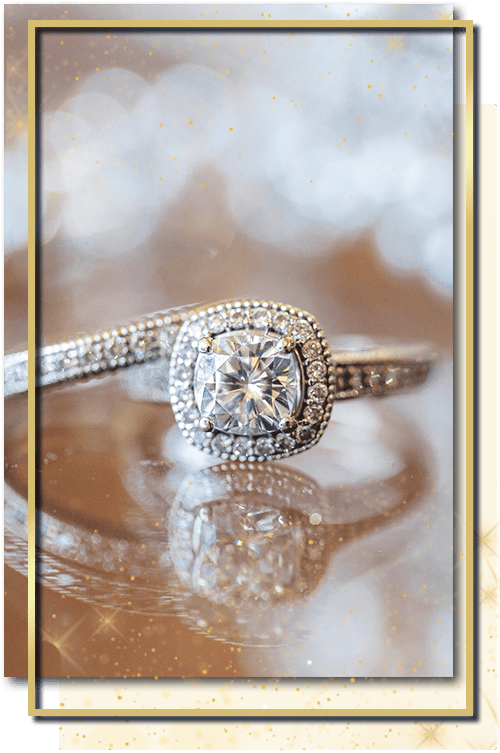 Deposit And Creation
This is the part when our collaboration begins to come to life. You can handpick your diamonds, stones, and metals. I will create 3D renderings and wax models so you can see exactly how your piece will look and fit.

Completion
This final step is a 4-part process in itself. After perfecting the design during the creation phase, I will craft the completed version of your piece. This includes casting, setting, polishing and buffing and delivering a custom, quality piece that encompasses everything you dreamed of.
Your Own Personal Jeweller
It is my goal to be your personal jewellery expert. Your go-to for every jewellery need. My services include jewellery analysis, appraisals, inspections, maintenance and repair, ready-to-purchase, previously-loved jewellery upcycling and re-imagining, and custom engagement and jewellery design.
Refined Custom Jewellers is your partner from conceptualization through creation and for every step of caring for your most treasured pieces year after year.
A Better Way To Find Jewellery You Love

Refined Custom Jewellers provides an elevated jewellery buying experience in Calgary and surrounding areas. Collaborate with me to create a stunning, one-of-a-kind and completely bespoke engagement ring, wedding band, necklace, earrings, bracelet, or other piece that speaks to your own personal style. With options that work with every budget, Refined Custom Jewellers is your go-to partner for the fine jewellery pieces to mark every occasion.
Calgary's Choice For A Better Jewellery Experience
Refined Custom Jewellers is the choice for all of your jewellery design and care needs in Calgary and area. With a commitment to responsive, respectful, and insightful service I want to be your go-to source for high-quality beautiful jewellery (custom and ready-made), reimagined and redesigned previously loved pieces, certified appraisals, and jewellery maintenance and repair. My commitment is to be a trusted partner for all of your jewellery needs. Call or text us today to book a FREE Consultation at 1-587-333-3038.